$title='company'; ?> include("../inc/leftnav.php"); ?> include("../inc/highlight.php"); ?> include("../inc/side_pic.php"); ?>

Company History (1985 - 2008)
Part 1 - Micro Forté's Inception & Early Days
Micro Forté, now known as Micro Forté Studios, was founded in 1985 with the purpose of developing world-class AAA computer games. The company, which is one of the oldest and most respected games developers in Australia, has studios in both Sydney and Canberra. The history of Micro Forté is to some extent the history of the Australian computer games industry, for many of the innovations and events that have occurred in the Australian games industry were shaped by Micro Forté and its executives. In particular, John De Margheriti is known for his entrepreneurial daring, and the story of Micro Forté cannot be told without the  story of John's very interesting journey.
Micro Forté Studios is known as the internal development studio of the world-renowned BigWorld company, and as the original developers of the BigWorld Technology. Now focusing on the development of virtual worlds and MMO games, there was a time when Micro Forté was an independent development studio developing single and multiplayer games for some of the largest publishers in the world.
Founded by John De Margheriti in 1985 with  co-founders Steve Wang, Stephen Lewis and John Reidy, Micro Forté was the creation of a group of university friends with a passion for software development and computer games. Simon Hayes joined the company in 1986 and was promoted to the CTO position when John Reidy left to pursue his personal ambitions around 1988. Together, John, Steve and Simon have been the business, creative and technical force behind the company for over 23 years. Their loyalty to each other and their complementary skills have served Micro Forté well. As Australia's oldest independent games studio, Micro Forté is something of a local legend.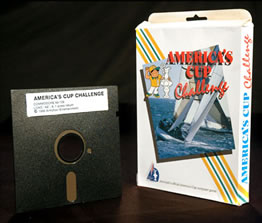 Micro Forté's first project was the Official America's Cup Sailing Simulation (1986) developed for the Commodore 64/128 and Amstrad. The publishers were Electronic Arts (USA), U.S. Gold (Europe) and Armchair Entertainment (Australia). This game was quite successful and was bundled in the Commodore 64 family pack and sold in excess of 60,000 units in Australia alone. The game was developed for a budget of around $20,000 in the space of approximately 12 weeks, something that seems amazing in the age of multi-million dollar budgets and two-year development cycles.
This title was followed by Demon Stalkers for the Commodore 64/128 and IBM PC for Electronic Arts. The project was an idea of John's that was based on the popular Gauntlet arcade game at that time. The Producer and Lead Programmer was Steve Wang. Demon Stalkers was an extremely successful title for Electronic Arts and an "autographed" edition was produced for the European market with localized German and French versions.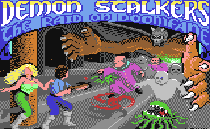 Demon Stalkers was followed by its sequel FireKing, initially funded by Electronic Arts but later published by SSG, an affiliated label of Electronic Arts. SSG was then a local Australian publisher with offices in the USA. Unfortunately the distribution and marketing funding was not sufficient to propel FireKing to a world-wide market and its release was focused mainly in Australia and the USA.
In 1989 due to problems arising largely from a lack of business experience amongst the founders' group, Micro Forté decided that it should pause further game development projects for a few years, to allow its executive team to gain further business and management experience. While this was a tough call, it proved to be a wise decision. Steve Wang joined IBM's software development arm. Simon Hayes did various software development contracts focusing on distributed systems, and John De Margheriti focused on Major Accounts Management for a leading printer manufacturer and then a networks company.  All of the founders gained important life experience and were successful in their new roles, with their temporary 'careers' providing useful insights. Simon's experiences led, further down the track, to the creation of BigWorld Technology. Steve learned more about the management of large scale projects. John's financial successes in his sales role enabled him after several years to bankroll a new but much wiser Micro Forté. It was a great testament to their loyalty to each other that they came back together and rejoined the "new" company in 1994. Simon was officially announced as a "co-founder" during this time.
Go to Part 2 - The 'New' Micro Forté & Growth of the Australian Industry >
Go to Part 3 - Developing BigWorld Technology & Chartering a New Path for Micro Forté Studios >

include("../inc/footer.php"); ?>